A true jewel in the heart of the Portes du Soleil ski area in France, Avoriaz stands out with its unique, cliff-top architecture and vehicle-free ambiance. Snow-covered streets and horse-drawn sleighs replace the hustle and bustle of cars, making it a serene winter retreat. Whether you're an adrenaline junkie, a nature lover, or someone seeking relaxation, Avoriaz has something for everyone. Here's a guide to the top 10 winter activities in this mesmerizing alpine destination.
1. Skiing and Snowboarding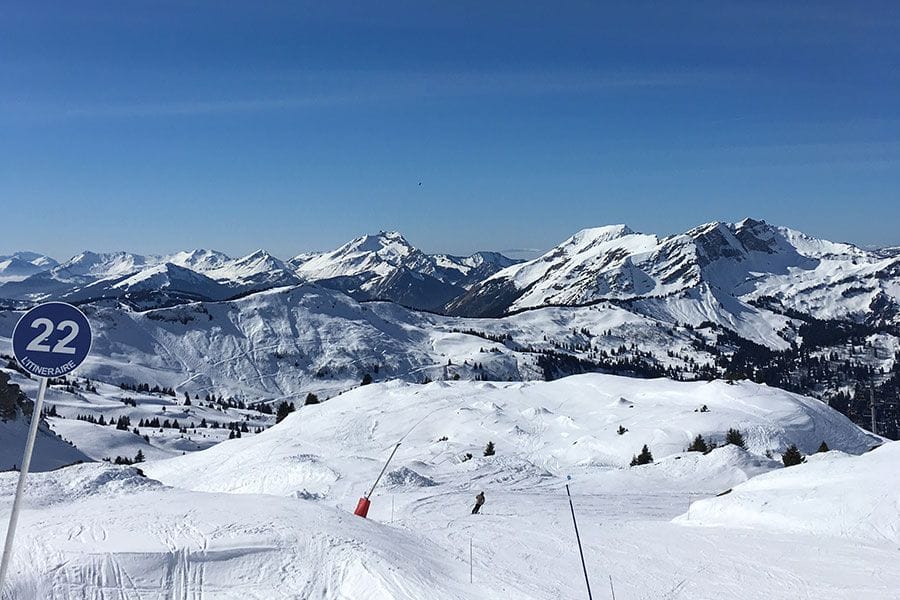 With access to over 600km of slopes in the Portes du Soleil area, Avoriaz is a haven for winter sports enthusiasts. The resort caters to all levels, from gentle beginner zones to challenging black runs like 'The Wall'. The snowpark, 'Stash', inspired by the legendary snowboarder Jake Burton, is an eco-friendly park and a must-visit for freestyle fans.
2. Aquariaz Mountain Spa
Experience tropical warmth in the heart of the Alps at Aquariaz, the highest water park in Europe. Designed as an aquatic paradise, it offers a large pool, lazy river, half-pipe, and a spa area. The lush tropical vegetation and rocks make it a unique spot to relax after a day on the slopes.
3. Horse-drawn Sleigh Rides

Embrace the charm of Avoriaz's car-free policy. Instead of taxis, horse-drawn sleighs transport visitors through the snowy streets. It's not just a mode of transport but also a nostalgic experience, offering a unique perspective of the resort.
4. Snowshoeing and Cross-Country Skiing
Explore the pristine, untouched areas of Avoriaz on snowshoes or cross-country skis. Numerous trails lead you through scenic landscapes, offering breathtaking views of the Dents Blanches and the Dents du Midi mountain ranges.
5. Ice Skating and Curling
The outdoor ice rink, located in the heart of the resort, is a popular attraction for families. Whether you're practicing pirouettes or engaging in a friendly game of curling, it's a delightful way to immerse in winter festivities.
6. Village Igloo
Experience the magic of the Village Igloo, where everything—from the walls to the furniture—is made entirely of snow and ice. Sip on a drink at the ice bar, explore the ice sculptures, or even book a night for a unique sleeping experience.
7. Paragliding
For a rush of adrenaline combined with unparalleled views, try paragliding over the snow-covered valleys and peaks of Avoriaz. With tandem flights available, even beginners can experience the sensation of soaring like a bird.
8. Night Skiing
Experience the enchantment of the slopes under a starlit sky. Avoriaz offers night skiing on specially illuminated pistes, allowing you to experience the mountains in an entirely new light.
9. Children's Village
If you're traveling with kids, the Children's Village, spanning over 4 hectares, is an absolute delight. Tailored for kids aged 3-16, it offers ski lessons, fun snow activities, and even a dedicated snowpark for budding young skiers and snowboarders.
10. Proximity to Morzine
A quick cable car ride away lies the charming town of Morzine. This traditional Savoyard town is worth a visit for its bustling markets, delectable French cuisine, and a different pace of life compared to the ski-centric Avoriaz.
In conclusion, Avoriaz is more than just a ski destination. Its elevated position ensures great snow conditions, while its architectural marvels, diverse range of activities, and emphasis on eco-responsibility make it stand out among Alpine resorts. Whether you're weaving down its vast slopes, soaking in tropical warmth at Aquariaz, or gliding through the air on a paraglider, Avoriaz promises a winter holiday that's both exhilarating and enchanting.