Perched within the Tarentaise Valley, Les Arcs is a haven for winter enthusiasts seeking both adrenaline rushes and tranquil moments. Consisting of multiple villages—Arc 1600, Arc 1800, Arc 1950, and Arc 2000—Les Arcs offers a multifaceted winter experience that captures the essence of the French Alps. Whether you're an avid skier, a food connoisseur, or someone seeking the cozy embrace of mountain life, Les Arcs has a treasure trove of activities to explore. Here are the top 10 things to do in Les Arcs in winter, making your alpine escape truly memorable.
1. Skiing and Snowboarding Across Vast Terrains
Les Arcs is part of the enormous Paradiski area, offering over 425 km of slopes that cater to both novice skiers and experts. From well-maintained green runs to adrenaline-pumping black diamonds, the diversity here is unmatched. The ski resort also provides multiple snow parks and boardercross runs for snowboarders to flaunt their tricks.
2. Try Your Hand at Speed Skiing
If you're an experienced skier looking for a unique challenge, speed skiing at the legendary Klondike piste in Arc 2000 is a must. Feel the wind rush past as you carve your way down one of the world's fastest slopes, reaching speeds that most people can only dream of.
3. Take to the Skies with Paragliding
For a bird's-eye view of the stunning alpine vistas, paragliding is an exhilarating option. Safely strapped to an instructor, soar over snowy peaks and picturesque villages, experiencing the beauty of Les Arcs from an entirely new perspective.
4. Off-Piste Adventures for the Bold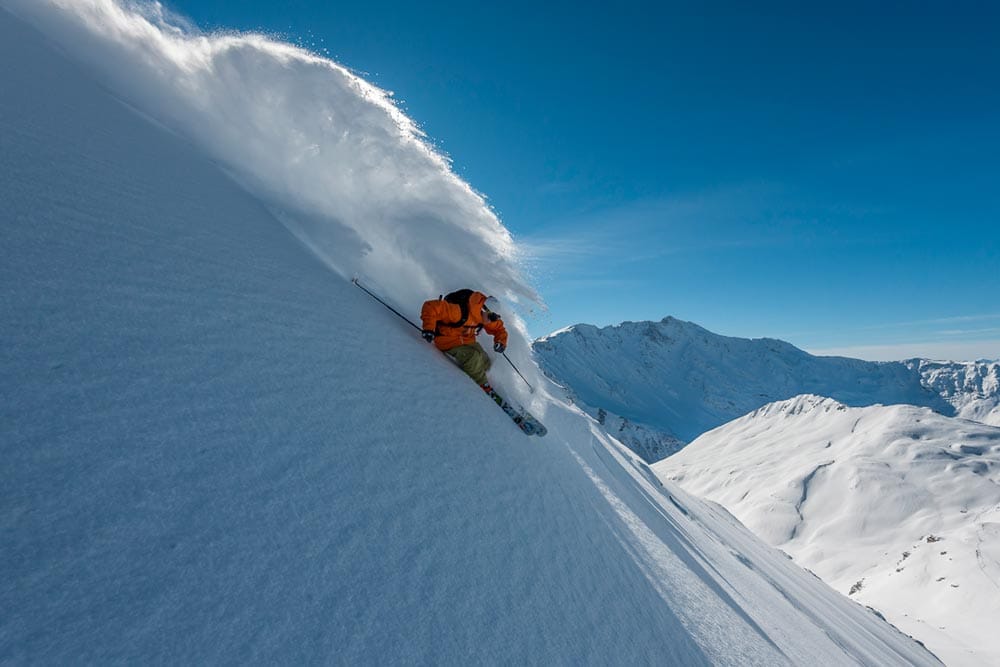 Adventurous souls can venture off the beaten path to explore the vast off-piste terrains that Les Arcs offers. Avalanche safety gear and a qualified guide are highly recommended, as you delve into powder-filled bowls and hidden forest trails.
5. The Mille8: A Winter Wonderland
The Mille8 is a leisure area in Arc 1800 that promises a plethora of activities for everyone. Featuring a swimming pool, a golf simulator, toboggan runs, and even a forest-themed trail for beginners, it's the perfect place to unwind after a day of rigorous outdoor pursuits.
6. Après-Ski Delights
Les Arcs is not just about daytime activities; the resort comes alive as the sun sets, offering a vibrant après-ski scene. From cozy mountain huts serving hot mulled wine to lively bars with DJs spinning the latest tracks, there's a spot for everyone to relax and relish the evening.
7. Culinary Indulgences in Mountain-Top Restaurants
Take a break from the slopes to savor mouthwatering Alpine cuisine. With a selection of mountain-top restaurants offering panoramic views, dining in Les Arcs becomes an experience to cherish. Indulge in sumptuous fondues, creamy tartiflettes, and other Savoyard specialities.
8. Ice Cave and Sculptures at Aiguille Rouge
The ice cave at Aiguille Rouge is a hidden gem, where intricate sculptures are carved into a glacial cave. At an elevation of 3,226 meters, it's accessible by the Varet and Aiguille Rouge cable cars, offering an enchanting respite from the outdoor activities.
9. Husky Sledding Through Snow-Covered Forests
Experience the magic of the Alps in the most authentic way—by being pulled through snowy landscapes by a team of enthusiastic huskies. A guided husky sledding tour provides a unique opportunity to bond with these incredible animals while enjoying the serene beauty around.
10. Enjoying the Spa and Wellness Centers
After a long day of adventure, unwind at one of Les Arcs' numerous spa and wellness centers. Whether it's a deep-tissue massage, a steamy sauna, or a dip in a heated pool, these facilities offer the ultimate relaxation, leaving you rejuvenated for another day of alpine excitement.
In summary, Les Arcs in winter is a multifaceted diamond, offering a blend of adrenaline-pumping activities, gastronomic pleasures, and restorative wellness experiences. Whether you're zooming down slopes, marveling at ice sculptures, or savoring a glass of vin chaud as the sun dips below the snowy peaks, Les Arcs promises a winter vacation that you'll cherish for years to come. So pack your snow boots and parkas, and head to Les Arcs for a winter adventure you won't forget.